Essence of Indian Wedding Dresses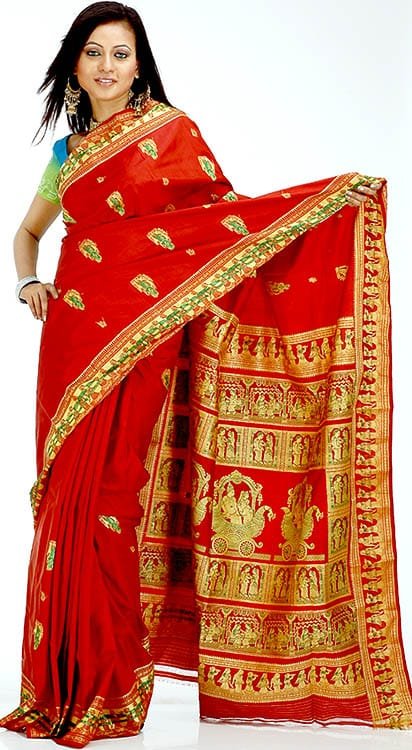 Indian wedding dresses
reveal the richness and diversity of Indian tradition and culture. Every region has its unique dress code for weddings with their distinctive color significance. In the northern region, wedding dresses are usually red or green that symbolizes auspiciousness and lushness respectively. Wedding dresses of the southern region are mainly characterized by cream color attire that symbolizes simplicity and purity. Bengali and Gujarati tradition has a combination of white and red sarees that narrates the rich heritage of their individual culture and also signifies the auspicious, lavish, and divine entry of the newly wed woman into a whole new world.
Whatever the region is, the style is same throughout the country since centuries. In the older times, sarees were worn on
wedding ceremonies
and even today sarees holds its richness and elegance. The only thing that has changed is the design, pattern, and the style of saree draping. Nowadays, wedding sarees are available in a range of styles and designs. The most popular among them are Bandhani, kanchipuram, silk, zardosi work, sequence work, patola, and brocade.
Apart from that, salwar kammez also is populary known as an
elegant wedding dress
in some regions of the country especially Punjab. The style, the pattern, and the artistic work in wedding salwar kameez have changed over the period of time. The kurti or the kameez is decoratively adorned with variety of embellishments like beadwork, heavy embroidery, golden lace, crystal, threading, and sequence. The bottom is a loose salwar, a churidar, or a patiala and is mostly simple with a heavy border at the bottom end. The dupatta is also embellished with either the same adornments as the kurti or is simple with an attractive border. It is either tied to the chest or around the neckline as per the comfort of the bride.
One more significant Indian wedding attire is lehanga or ghaghra choli. The attire is a long skirt with a designer short top and a dupatta. Especially designed for the brides, lehangas in the present era are available in a variety of style and designs. The most common style is the fish cut, straight cut, and A-line cut. Earlier flared cut was also very popular but nowadays only a few prefer wearing a completely flared lehanga for their wedding. The flowing fabric in tissue, satin, georgette, or crepe along with the embellishments like thread work, sequence, laces, zardosi, or crystals add more charm and beauty to the bride's personality (J G).