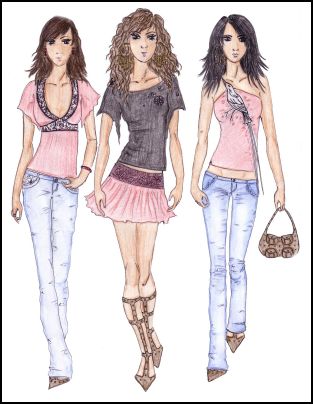 Fashion has a set of rules, regarding what is 'hot' or not, and how to put clothing choices together into outfits. These rules are part of the business of fashion, and help to sell magazines and draw a readership for advice columns. They are not absolutes.
Consider breaking them from time to time. It has been said that a little bit of bad taste adds spice to a wardrobe. Instead of striving to maintain the fashion status quo, violate a few of the rules below to add some impact to
your style
. Don't clash colors: Common wisdom is that some colors go together, while others should never be worn in combination because they 'clash.' This is an oversimplification.
Some colors fit together easily while others do not look good together at all. You'll want to stay away from the extreme end of clashing, the colors that actually look horrible together (pumpkin orange and lime green, anyone?). Still, if you push right up to the line of seriously clashing and you combine your colors in unusual pairings, you'll find that these brave choices set you with the more
fashionable dressers
.
Wear bright jewelry only at night: This rule is not necessary - your jewelry will not be damaged by sunlight. Wearing a piece during the day should not cause harm. Occasionally taking out a glitzy piece and wearing it during the day can be fun. Why not wear a rhinestone drop necklace to brunch some time? Choose either eyes or lips to play up with makeup: Beauty editors and bloggers tend to repeat this advice as though it were law. But there is no reason why you can't choose both eyes and lips to highlight (Brady Becker).