Second Hand Wedding Dress - An Affordable Solution
By Eva Melville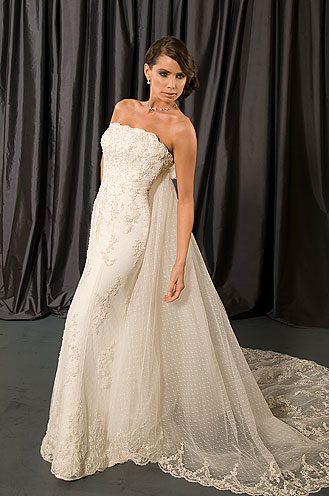 When my fiancée and I discovered that, we had to plan our wedding on a tight budget I tucked away the picture of the wedding dress I had researched for, so thoroughly. We couldn't afford to be lavish now. My bridesmaid and my best friend came to my rescue. Thanks to her, I realised that I could still get my dream dress and so what if it was second hand. You too deserve to know why and how you could also get second hand wedding dresses.
Your first search option should always be within the family. That's because you can trust the quality of the product you are getting. There are no apprehensions about its quality. Also, if they are willing to accommodate your request, remember to check if you can cut it short or alter it basis your liking. The old time Vintage look also works very well. What especially worked for me was, wearing my mom's wedding dress made my wedding so much more special. I intend to pass it on as heirloom.
If that doesn't work for you then get some exercise for yourself by browsing through the thrift stores until you can find something worth the big day. It's a good idea to look through the thrift stores located in the more opulent part of the town as they would have second hand wedding dresses that are thrifty, but don't look so. All that you'd be left to do is some dry cleaning and you'd be all set- at almost nothing compared to the price of a brand new wedding gown.
Parallel to your search in and out of the stores; remember to check online stores that offer you great designs at affordable rates. The good news is you don't have to stop your search at eBay. There are a number of websites that specifically cater to second hand wedding dresses. It is amazing how some of them even offer discounts, which suits your planned wedding budget so much spotlessly.
If you are still hesitant, then here are a couple of things you should consider. A seamstress is always planned with the rest of the wedding budget. Instead of having them work on a brand new wedding dress, they can do the same work on a used dress at a lesser price. Moreover, you get to customise it exactly the way you want-even if that mean taking the original design away completely. I had modified my mother's long sleeved, boat necked gown into a dramatic off shouldered fitting knee length dress-almost unrecognisably so to its original design.
Lastly, you don't have to spend exorbitantly to look gorgeous. It's a good idea to spend that instead, on a long vacation or in buying that condo that you dreamt of living in, with your loved one. Be a smart bride and let everyone know that your second hand wedding dress isn't something you just picked off the rack, instead it is an extension of who you are.